So you've decided — after careful consideration — that your best bet for becoming a guitar aficionado will come with purchasing an acoustic.
You don't want to shred Wembley Stadium to a pulp with roaring metal solos, but to woo a loved one with a romantic flamenco piece, or to lock yourself in a cabin for a few months after a break-up to record a lo-fi indie folk record (I see you, Bon Iver).
Maybe you want to do both but various constraints mean that an acoustic is the way to go for you.
Or maybe, like me, you just want to keep adding to your guitar collection and can't help gluttonously ignoring what you should be doing with your money because there's a 2nd hand Yamaha 10% off at your local music center. Whatever your reasons for wanting an acoustic guitar — I'm here to steer you in the right direction.
Acoustic guitars are versatile instruments; just as relevant in Pagan black metal as they are in wistful indie pop.
We all know that buying that first instrument can be a make-or-break moment as a musician, no matter if it's an exorbitantly priced electro-acoustic guitar or if it's a run-down nylon-string from a country that no longer exists.
If what you buy isn't enjoyable to play, doesn't sound good and inhibits your progress as a guitarist, it can be easy to just drop it and run back to playing Skyrim while regretfully crying to Elliott Smith music wondering 'why can't I do this?' (well, to be fair, not many can).
So, how do we make a measured decision when picking up an acoustic guitar?
---
In my experience, nabbing a cheap acoustic from a marketplace is a much easier proposition than with their electric counterparts, and the option to sacrifice any semblance of build quality for a modest joining fee (think less than 20 dollars) is appealing. But, is this something we should do?
The answer is, as it invariably is in my articles — it's up to you!
That el cheapo acoustic you find lying in the corner at someone's garage sale might be a heaping hunk of garbage, or it might be the instrument that immediately renders you the next big thing.
At such a small investment there isn't really too much of a reason not to grab an inexpensive acoustic guitar if you find one around, but you must remember not to rest your hopes on it.
If it is cumbersome to play, buzzes if you so much as dare breathe on one of the strings and goes out of tune before you can play a note — it's going to be a frustrating experience getting started.
If you strike gold on an unknown antique steel-string that is delightful to play and encourages you to hone your craft then that's great. Otherwise, keep reading through this article to find out what you should look for and some of the recommended acoustics, whether you're a beginner, intermediate or pro.
Best Acoustic Guitars
It's worth remembering that this is not even remotely close to an exhaustive list of acoustic guitars that could find a happy home in your gig bag. You may love (or even hate) all of those that I list.
While I try to provide a considered product recommendation for all different types of guitarists, I can't guarantee your next favorite instrument is waiting patiently below this disclaimer. I'm as biased as anyone else will be with their instruments — we love our darlings and get upset when anyone talks ill of them.
However, what I can guarantee you, is if you put in the research, the time and effort — you will find the perfect next member of your instrument family.
---
Best Beginner Acoustic Guitars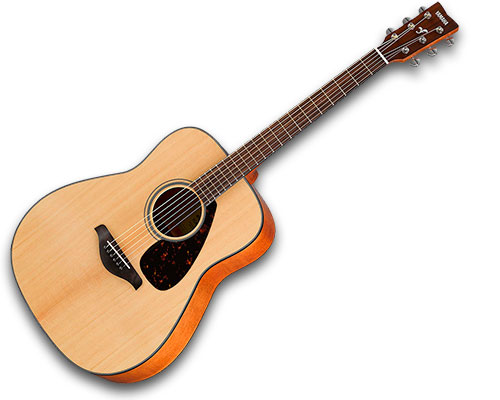 ---
Style: Steel-stringed
Body wood: Spruce
Fingerboard: Rosewood
Frets: 20
Yamaha are one of the most popular acoustic guitar makers due to their high-quality models at generally affordable prices. Their FG range has been around for over 50 years, and the FG800 is a well-known entry-level acoustic that sports specs that belies its budget price tag.
This means it has a bright (but not brittle and annoying), clear tone that is pretty and easy to acclimatize to during those difficult early periods when your playing isn't at its cleanest.
Another plus of this product is they can often be found in beginner's packs which will include a carry-bag, straps, tuners and picks.
The biggest drawback, especially for a beginner, is that the FG800 is known for having a higher-than-optimal action. This means that it can be difficult to play as your fingers adjust to the rigors of continually pressing down on a fretboard.
A simple visit to a guitar technician will remedy this problem, or if you're savvy enough, watching a few YouTube videos.
The FG800 is one of the most popular steel-stringed guitars for entry-level players for a reason — it has a tone and build quality that contradicts its budget nature.
---
---
Style: Classical
Body wood: Cedar
Fingerboard: Rosewood
Frets: 19
The Epiphone Classical E1 isn't innovative, it doesn't give you any extraordinary features or a truly remarkable tone. So why bother including it on this list?
Well, that's simple…it's just so easy and fun to play. Many beginners will clamor over aesthetics, extra specs and other frills while forgetting about a key element — the joy of playing. The C-1 Classic is cheap, easy to handle and one of the simplest guitars to learn on.
The E-1 Classical is also available in a smaller, easy-to-hold 3/4 size (aka Epiphone PRO-1 Classic)
Especially considering the price point, the C-1 is a fantastic choice for those that may be a little tentative about parting with a few extra dollars for a hobby they may not fully take up (although if you've made it this far in the article, your chances of success will probably be pretty high!)
Of course, with a price tag that is so accessible, there will be drawbacks — as I mentioned the tone isn't particularly extraordinary, and it doesn't excel in niche playstyles like flamenco.
The diminished stature of the guitar relative to other options means that players with long fingers, or those with a more advanced ability to move across a fretboard (as the strings are quite close together) may find it difficult to reach their full potential.
However, for a beginner that wants a cheap, nylon-stringed option, the C-1 Classic is a good bet and is easily found in a 'jam pack' with useful accessories.
---
---
Style: Acoustic-electric steel string
Body wood: Okoume
Fingerboard: Ovangkol (similar to rosewood)
Frets: 20
When you think of the brand 'Ibanez' and 'plug into an amp', I have no doubt that your mind probably wanders to some Death Metal band named Children of Tolkien that regularly write songs in tunings so deep that a whale might be offended by it.
But in actuality, this Ibanez guitar is an electric-acoustic — just as suited to sweet country ballads and indie folk as any other acoustic guitar.
What's cool about the AW54 is its uniqueness — it is built with the player being able to access as many frets as possible in mind, which contrasts with a number of bigger and bulkier steel-stringed acoustics.
The wood has a beautiful, dark finish that you won't typically find on beginner's guitars. In spite of Okoume's (sometimes thought of as a cheaper Mahogany) mediocre reputation, the warm and rich tone of the AW54, paired with its durability, renders it a great practice and live guitar.
The disadvantage with this product for a beginner is primarily budgetary — an acoustic-electric has more moving parts to it, such as an amplifier and cables, than your everyday acoustic. But for those that are in need of a sturdy and faithful companion with a few electrical components added in, the AW54 is worth a try.
Honorable Mentions: Epiphone DR-100 (steel-stringed), Martin Little Martin (a small, child-friendly steel-stringed), Ibanez IJV50 (steel-stringed)
Best Intermediate Acoustic Guitars
---
Style: Steel-string
Body: Sitka spruce
Fingerboard: Ebony
Frets: 20
Remember how, earlier in this piece, I snuck in a disclaimer saying that 'this author may be biased?' Well, allow me to indulge you for a second with the Yamaha FG3.
While neither of these artists could be categorized as 'intermediate', their guitars were relatively low budget for the quality of their individual playing as they went on their way to manufacture some of the most unique and iconic acoustic guitar tones in modern musical history. Okay, do you see my bias now?
That said, on its own merits the FG3 is an incredible guitar. Constructed in Japan, comprising top-tier wooden materials and expert craftsmanship, you can't go wrong with one of these in your arsenal.
The instrument has a powerful, bassy tone that can resonate throughout an entire stadium without the requirement for amplification (only a slight hyperbole) all the while harboring an oft-sought 'vintage' sonic projection.
Though the FG3 exists on the pricier end of the spectrum, it's well worth it as a versatile instrument that gives a recognizable blast from the past every time you so much as brush one of its strings.
---
---
Style: Acoustic-electric steel-string
Body: Sitka spruce
Fingerboard: Ebony
Frets: 20
Taylor are one of the more prominent acoustic guitar manufacturers going around today, and the 110e is a good window into why.
Designed as an intermediate instrument that's quality renders it viable for professional, studio recordings and gigs, the 110e presents great value for money given its solid electrics and durable body construction.
Interestingly, the guitar's nut width comes in at slightly smaller than most of its contemporaries, meaning that hard-to-reach chords (I'm looking at you, barres) become less of a contortionist's exercise and more of a light, summer's breeze.
The 110e sits in a very obvious consumer space — it's not expensive enough to be a 'premium' offering, but is wonderfully priced for intermediate guitarists looking to take their gigging, recordings and practices to the next level.
It will be an all-round noticeably different experience playing this fantastic weapon relative to most novice acoustics — easier to play, a superior sound and easier to handle electronics.
---
---
Style: Acoustic-electric classical guitar
Body wood: Cedar
Fingerboard: Rosewood
Frets: 19
Though its versatility isn't something to be scoffed at, the Cordoba C7-CE is the first guitar on this list designed for a specific playstyle — Spanish folk music. Featuring a cutaway which allows for supreme access to even the highest frets, this guitar is perfect for flamenco players that need an instrument that offers both value and quality.
Sporting Canadian cedar woods, this classical guitar's tone is inimitable, with a sharp, detailed sonic-scape covering you as your fingers flutter over the soft and velvety fretboard.
The guitar is even equipped with an onboard microphone and tuner, meaning there will be no embarrassment at your next live gig as you fumble for your phone's guitar app (yeah, that's right, not all of us have perfect pitch).
Though it is designed for Spanish guitarists, to limit such an aesthetic, wonderful-sounding instrument to a singular playstyle is borderline blasphemous.
Its powerful and durable circuitry makes it a spectacular choice for intermediate (and pros) who want to hit up the studio or the live course and leave their mark on the world.
Honorable Mentions: Taylor 12e-N (classical guitar), Gibson G-45 Standard (acoustic-electric steel-stringed), Dean Performer (acoustic-electric steel-stringed)
Best Pro-Grade Acoustic Guitars
---
Style: Steel-string
Body wood: Sitka spruce
Fingerboard: Ebony
Frets: 20
The Beatles. Johnny Cash. Elvis Presley. These names doing anything for you?
That is just a brief list of the Martin D-28 alumni. Such is the gravitas of each of those musicians, I could theoretically end my segment on the guitar there and comfortably think to myself 'enough said.' Theoretically, of course.
There are only so many superlatives that a measly writer such as myself can employ when discussing such a revered and iconic guitar. It's just good. Immaculate durability, versatility that renders it a must for pretty much any playstyle and a warm, detailed tone are just some of the benefits of picking up a D-28.
Look, if you're a novice guitarist reading this, I probably wouldn't hit the streets, pawning off your possessions just to get your hands on one of these — there's no doubt this instrument is a serious investment.
Once you've got it, you won't need to look back.
---
---
Style: Classical
Body wood: European spruce
Fingerboard: Ebony
Frets: 19
Cordoba are extremely well-renowned in the music industry for their top-tier nylon-stringed classical guitars, and the C12 SP proves to be a continuation of this.
Coming with some of the finest tonewoods money can buy — Indian rosewood sides and a Solid European spruce top, the tonal quality of this nylon-stringed guitar is hard to match.
With a compelling blend of bright detail yet soothing warmth, this instrument's applications extend far into the realms of possibility as it handles each with ease.
It certainly comes with a hefty price tag, but what else is to be expected from premium instruments?
As we all know, falling in love with an instrument is a more complicated matter than how it sounds and how much you enjoy playing it — one of the major factors is, superficial it may be, how it looks.
Luckily, the C12 SP leaves no stone left unturned in that regard, with a polished, gorgeous aesthetic that is only matched by its sonic quality.
I know, I know — I sound like a shady car salesman trying to convince you that you need something that doesn't exist. But when you're discussing instruments of premium quality, it's hard to find negatives or drawbacks other than their price tag.
They're priced to be exclusive, and 9 times out of 10, that's exactly what they are. Simply put, it's hard to go wrong with a guitar like this.
What to Look Out For
I don't want to beat you over the head with the same few bits of information — if you read my last article (naturally, I recommend it) you should already be well-equipped with some of the key elements you must consider when purchasing any guitar.
I'll briefly go over some of the concepts again, just as a nice refresher. Because I'm sure you didn't just skim through my last piece looking for product recommendations. Right?
---
Action
Simply put, the action of a guitar represents the height between the fretboard and the string. While we touched on this multiple times over this guitar series, it's a slightly different behemoth when it comes to acoustic guitars' playability.
I've found the action of an acoustic guitar to seriously affect how easy and well-sounding an acoustic guitar is in comparison to an electric. This is partially because you can hide some of the issues of a poor electric guitar action by jacking it up to an amp and pumping the distortion.
However, it's mostly because acoustic guitars generally require a higher action than an electric guitar in order to avoid buzzing. This results in acoustics being innately harder on your fingers, because they require more effort to press down.
Hope you enjoy those callouses!
The end result of all this is when an acoustic guitar has an out-of-whack action, it's either going to absolutely destroy your novice fingers, or make you wonder if there's a hive of bees in your room due to the incessant buzzing.
If you do decide to pick up a second-hand acoustic, I highly recommend taking it to an engineer and getting its action looked at, even if it costs more than the guitar itself. It might transform your pile of junk into an impressive beginner's guitar.
---
Accessories
One of the major factors in the acoustic vs electric for beginner's guitar debate is the plug'n'play (ironically because you don't have to plug anything) value of acoustics.
That said, there are still a number of accessories you will probably need to buy so it's worth checking out if your prospective purchase comes in a bundle with any of these.
Accessories to look out for include:
Hard/soft case
Picks
Guitar stand
Tuner
Strap
Spare strings
---
Electric vs Acoustic
This is a pretty straightforward one, but if you have a need to amplify your acoustic (particularly relevant if you play live gigs) then you should probably ignore all other considerations and prioritize that one.
Acoustic-electric guitars are acoustic guitars that have built-in microphones or pickups which allow for the instrument's sound to be plugged into an amp. These typically only affect the volume (though some have equalization or tonal features too) and are perfect for live performances in bigger venues.
I don't think I need to go into this anymore. If you want to run around on stage with an acoustic-electric guitar, it wouldn't make much sense to buy a 2000-dollar steel-string that won't plug into an amp, would it?
---
Wood
The manufacturing materials used for electric guitars obviously impact its sound to a degree. However, it makes sense that an acoustic guitar's wood will more drastically impact its resultant tone. This is because it actually produces sound inside the body's 'box', unlike an electric guitar.
Typically, dense woods (spruce) produce a brighter tone, whereas lighter woods tend to be warmer (cedar).
Some of the more popular woods include:
Maple — doesn't impact the colour of the guitar's tone very much, often has less sustain than other woods
Rosewood — a loud, reverberant wood that accentuates low and top-end tonality
Mahogany — another strong, dense wood that often results in more mid-range than other body makes
Spruce — quite common on steel-strings, spruce woods are notable for a bright and detailed tone
It's worth remembering that the sides, top and back of an acoustic guitar's body may be a mesh of different woods, blending tones to create a unique sound. The best way to get a feel for what each different tonewood brings to the table is of course, to try it out in person.
The other wood you must consider is that of the fretboard — which can also influence an acoustic's tone.
The most common bridge woods are:
Rosewood – durable, easy to dance fingers across and relatively balanced tone
Ebony – extremely durable with a responsive, resonant tone
Maple – less popular but provides a bright, crisp tone.
Ash, oak and walnut may also be used.
---
Classical vs Steel-String
The more pertinent question is probably — what style of music are you wanting to play?
I won't get into the technical differences of each (which can be found here), but if you're aiming to emulate a country-rocker, or the rhythm of a rock band, then stick with a steel-string.
Within these subsets actually exist further subsets — that is to say, some nylon-string guitars are designed for flamenco, while others are intended for orchestral use. Deciding if you'd like to learn and operate in a niche genre can really help narrow down your options.
It's also worth remembering that nylon strings are more forgiving on beginners' fingers and classical guitars are, as a rule, cheaper than their steel-stringed counterparts.
Beyond that, the actual strings used on your guitar can quite drastically impact the comfort and ease of playing when you first get an acoustic. It's worth trialing a few different sets to get a good grasp of your favorite strings brands, and then sticking to them.
---
Budget
Finally, and a consideration that you must make before pretty much any purchase — unless your name is Paul McCartney — is what budget you're willing to work with.
Acoustic guitars run on a huge scale of varying price points, from bargain-basement instruments that would otherwise be thrown away, to signature models worth tens of thousands. Kurt Cobain's old acoustic was even sold for in excess of 6 million.
Obviously this is more of an investment and collector's item than it is an instrument you're going to learn Greensleeves on, but the point still stands.
You can quite comfortably pick up great new novice guitars (which are just marketed as such due to price-point and exist as perfectly suitable intermediate/gigging/recording guitars too) from reputable brands at the $200 mark. Lesser-known brands with equally quality products can be found even cheaper, especially if you find them second-hand.
The wood used is especially important in determining value, as cheaper guitars often use laminated wood or multiple pieces instead of a singular solid piece.
The thing with guitars — and most other instruments — is that the more you pay doesn't necessarily mean the better for you the guitar.
The comfort, playability and tone for your specific playstyle requirements and genre may mean that a $20,000 vintage model is far inferior to a no-name model handed down by your parents.
As always: TRY BEFORE YOU BUY. Say it with me. Try. Before. You Buy.
If that isn't possible, at the very least read user reviews and watch YouTube videos (if they exist) demonstrating the tonal versatility of the instrument you're interested in acquiring.
This will help you garner some semblance of awareness as to its suitability for your specific needs, be they budgetary, style or otherwise.
Conclusion
That pretty much does it! Hopefully after reading the three articles on guitars you can now be confident enough to begin your collection.
They are a wonderful instrument, and acoustic guitars have been a staple of music for hundreds of years for a reason — they (for the most part) look and sound amazing, and typically don't require anything other than your imagination before you can start strumming and begin to tell a story.
---
You might also like:
The Ultimate Guide to Buying Your First Guitar
Best Electric Guitars: Affordable to Pro-Grade
Guitar Amps: The Ultimate Buying Guide
Guitar Accessories: The Ultimate Beginner's Guide